"Use your knowledge to overcome this unique challenge."
Advanced Challenge 2 is the fourth Advanced Academy mission.
Starting position
Edit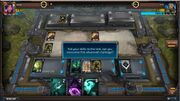 Orion (AI Opponent)
Edit
15 Health, 100 Morale, 12 Resources
Assault Zone: 82/90 Flame Ram
Defense Zone: 87/61 Flame Ram
5 cards in Hand.
Game text
Edit
"Put your skills to the test, can you overcome this advanced challenge?"
Solution
Edit
Turn
Actions
Resolution
1

Play Disarm, then Shifting Stone's ability on the Flame Ram currently in Assault.
Switch your two Soldiers of Fortune.

Opponent switches the two Flame Rams.
Opponent plays Deflect on the Flame Ram now in Assault.
Opponent plays Stumble on the Soldier of Fortune that is now in Support. This has no effect.
Disarm makes the Flame Ram now in Defense a 0/90.
Shifting Stone switches that Flame Ram to a 90/0. This kills it as it has no health.
The remaining Flame Ram is blocked by the Soldier of Fortune in Defense, which is killed.

2

Player draws a Called Shot.
Use Word of Command to force the remaining Flame Ram to "Defense". Then use Called Shot on it, specifying "Defense".
Move your remaining Soldier of Fortune into Assault.
Use Secluded Constructor's ability to construct Defense Golem into Soldier of Fortune.
Use Shifting Stone's ability on Soldier of Fortune.

Flame Ram is moved to Defense by Word of Command.
Flame Ram is killed by Called Shot.
Soldier of Fortune becomes a 5/25 after the construction.
Soldier of Fortune becomes a 25/5 after Shifting Stone.
Soldier of Fortune deals 25 damage to the opponent, reducing their health to zero.
Opponent may play a Ferocity on the Flame Ram, which will do nothing.
Opponent plays Called Shot on the Soldier of Fortune, doing nothing.
Community content is available under
CC-BY-SA
unless otherwise noted.