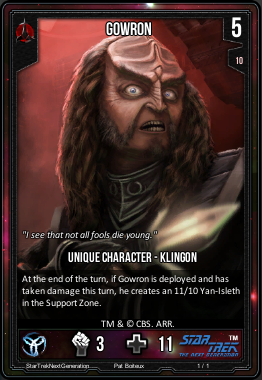 Faction
Klingon
Type
Unique Character - Klingon
Set
Star Trek
Rarity
Rare
Cost
5
Purity
Atk
3
HP
11
Text

At the end of the turn, if Gowron is deployed and has taken damage this turn, he creates an 11/10 Yan-Isleth in the Support Zone.

Flavor
"I see that not all fools die young."
External link
Edit
Gowron on Memory Alpha, the Star Trek Wiki
Community content is available under
CC-BY-SA
unless otherwise noted.