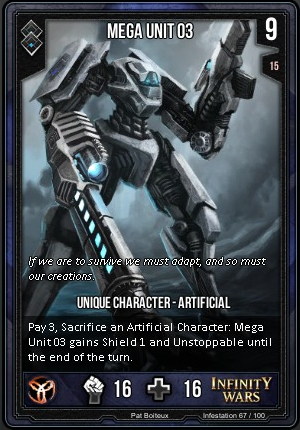 Faction
Genesis Industries
Purity
Type
Character - Artificial
Set
Infestation
Rarity
Epic
Cost
9
Morale
15
Atk
16
HP
16
Text
Pay 3, Sacrifice an Artificial Character: Mega Unit 03 gains Shield 1 and Unstoppable until the end of the turn.
Flavor

If we are to survive, we must adapt, and so must our creations.
Play Tips
: Cheaper then the
Mega Unit 02
and self shielding unlike
Mega Unit 01
this truly is an adapted creation.
It's shield is not preemptive so does little on opponent's initiative turns.
Try to bring out on opponent initiative turns to get at least one truly shielded turn of gameplay.
Community content is available under
CC-BY-SA
unless otherwise noted.