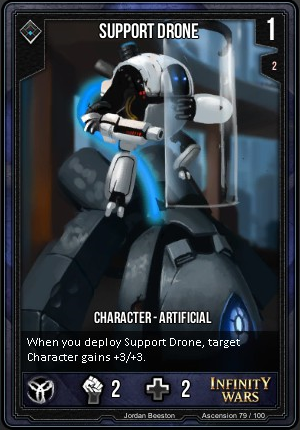 Faction
Genesis Industries
Purity
Type
Character - Artificial
Set
Ascension
Rarity
Common
Cost
1
Morale
2
Atk
2
HP
2
Text

When you deploy Support Drone, target Character gains +3/+3.

RU: При размещении Support Drone, целевой Персонаж получает +3/+3.

Flavor

N/A

Animation
Play Tips: Can buff itself to become a 1 cost 5/5.
A good choice in command with Aleta, Immortal Tinkerer. Turn 1, buff the Support Drone with Aleta's ability. Turn 2, buff the Support Drone again with Aleta, then deploy Support drone buffing itself. This results in a 11/11 on Turn 2 straight into the Assault Zone or Defense Zone as needed.
Community content is available under
CC-BY-SA
unless otherwise noted.