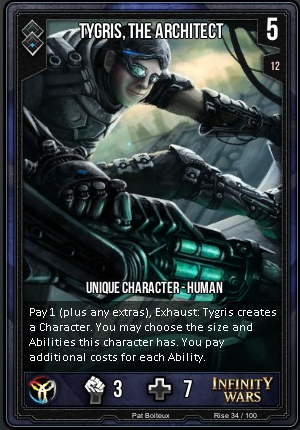 Faction
Genesis Industries
Purity
Type
Unique Character - Human
Set
Rise
Rarity
Legendary
Cost
5
Morale
12
Atk
3
HP
7
Text

Pay 1 (Plus any extras), Exhaust: Tygris creates a character. You may choose the size and Abilities this character has. You pay additional costs for each ability.

   1 Resource to activate
   1 Resource per +2/2 
   2 Resources: Charge
   2 Resources: Vigilance
   3 Resources: Flying
   3 Resources: Unstoppable
   4 Resources: Untouchable
   Notes:  A created character can possess all 5 abilities (Vigilance takes priority over Charge).


Flavor

N/A

Animation
Play Tips: Decently targeted character.
Got a problem? Well if you got the resources Tygris can get you the fire power and/or abilities to solve it.
Abilities are unsurprisingly costly which limits the size of his creations.
His creations are thankfully low moral cost.
Community content is available under
CC-BY-SA
unless otherwise noted.