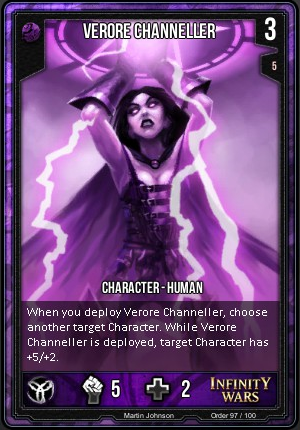 Faction
Cult of Verore
Purity
Type
Character - Human
Set
Order
Rarity
Common
Cost
3
Morale
5
Atk
5
HP
2
Text
When you deploy Verore Channeller, choose another target Character. While Verore Channeller is deployed, target Character has +5/+2.
Flavor

N/A
When first previewed before the launch of Order, Verore Channeller had different art by Amanda Kiefer.
The art was substituted with new work by Art Director Martin Johnson following complaints from players about the quality of the art. [1]
A time lapse video of the revised art was subsequently uploaded to YouTube. [2]
Community content is available under
CC-BY-SA
unless otherwise noted.